Terms of Sale
Trillium's books are offered subject to prior sale. Books are unconditionally guaranteed and may be returned with prior notice for any reason within 15 days of receipt for full refund, including return shipping. Prices are in U. S. Dollars. We accept payment in U. S. Dollars, Canadian Dollars, Pounds Sterling, and Euros at the current rate of exchange.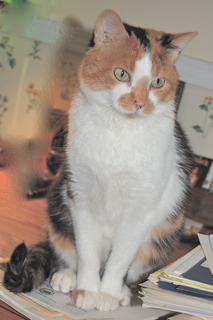 Shipping is billed separately. Insurance is paid by Trillium Antiquarian Books on every item we ship. Payment can be made by cash, cheque, money order, or wire transfer. Payment by credit card can be made using PayPal (www.paypal.com). Institutions can be invoiced. Ordinarily we ship orders within one or two business days of receipt of payment. We make a point of re-using boxes and packing materials. If you require new materials for shipping (say, for a present), please let us know, and we will be pleased to pack and ship your purchase accordingly.
Seventy-five per cent of used bookstores have at least one cat in residence. The others have a dog or aged relative in attendance.Trillium Antiquarian Books doesn't have a bricks and mortar store, but we do have a working cat.
Orders can be placed to our 24-hour number (705-749-0461), by email (trilliumbooks@sympatico.ca) or regular post to
William Van Nest
Trillium Antiquarian Books
1285 Albertus Avenue
Peterborough, Ontario
Canada K9J 6A4 Princess Dee Dee at Work
Shipping Services and Rates*
June 2016
Orders over 400.00 USD shipped free by air.
Canada .…..15.00 USD (2-4 wd's)
Canada Post Air Mail
USA…..20.00 USD (3- 5 wd's)
All Others…..35.00 USD (6- 10 wd"s)
DHL Worldwide Express (2 w.d.'s or less)
USA…..40.00 USD
Europe (incl. UK, Ireland)…..60.00 USD
Central America (incl. Mexico)…..60.00 USD
South Africa, Japan…..60.00 USD
Australia, New Zealand, Philippines…..75.00 USD
South America…..75.00 USD
India…..75.00 USD
Other….. Please inquire.
*For parcel about 1 kg (2.2 lbs).
For out-sized items (e.g., 5 kg) or special handling, please inquire.