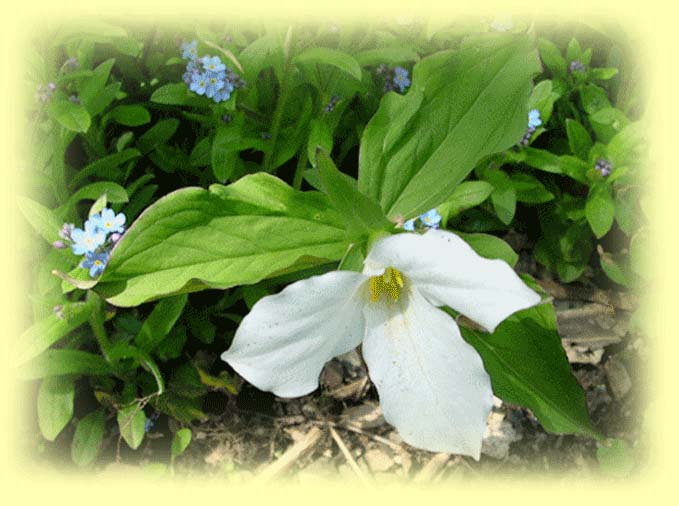 Trillium Antiquarian Books
Some common memento is better,
Something he prized and is known by;
His old clothes-- a few books perhaps.
William Carlos Williams, Tract

Welcome to the home of Trillium Antiquarian Books where you can search or browse our collection of antiquarian books on Country Life and Natural History -- scarce books, from A to Z, on angling, apiculture, bees, birds, botany, Darwin, farming, fish, flora, fruit growing, gardens, geography, grapes, herbals, horticulture, landscapes, mammals, orchards, ornithology, seeds, vegetables, wildflowers, zoology... and likely several other matters which do not come readily to mind. Search and browse, too, our antiquarian Canadiana and Literature collections. In our Canadiana collection you will find the early works of Moodie, Traill, Davies, Bouchette, and others from Upper and Lower Canada. Our antiquarian Literature collection makes room among its novels, sermons, and poetry for some rare works by Mark Twain and Stephen Crane.
We will never have thousands and thousands of books for sale, lining the front stairs, boxed and piled in the basement, but we do spend a great deal of time looking, live and on line; our collection of books on architecture and design, number-wise, is modest enough, but lined up together you will find classics on church architecture and designs for book covers-- perfect, if you are determined to build a replica of Ely's cathedral or are looking for a way to apply Tiffany style to mass marketed literary uplift. Sometimes all that's left of an old book is the pictures. You will find antiquarian prints and maps, together with entire illustrated books, in Trillium's collection of images from antiquarian sources.
If you spend any time hunting up books, you are bound to come upon an occasional book so odd or idiosyncratic as to be irresistible. Proof of the proposition is to be found in the Trillium collection of intriguing Curiosities. Since their comings and goings are unpredictable, it's usually worth stopping in for a short browse.
Trillium Antiquarian Books has been selling scarce, out-of-print books on the Internet since 1998 and, earlier, by traditional mail order.
Trillium Antiquarian Books is owned by William Van Nest, Peterborough, Ontario, Canada. Trillium Grandiflorum, from which we take our name, is the provincial flower of Ontario and appears in snowy white drifts among the hardwoods each Spring. One of several trilliums resident in the back garden furnished the images on this page.



Canadiana Catalogue

To download our Canadiana Catalogue as a pdf, simply click on...

http://www.dropbox.com/s/oicj29lcufdbo19/Canadiana%20Catalogue.pdf?dl=0




Now appearing in our Canadiana Catalogue are titles by the Strickland sisters (Catharine Parr, and Susanna) and George Douglas, books signed and inscribed by Sir Sandford Fleming, a family copy of Canadian Wild Flowers, and the letters of settler Frances Stewart. From a maple bush in Quebec's Cantons de l' Est, comes a cookbook by Martin Picard of Rabelasian recipes and good-natured ribaldry. Together with local histories and Margaret Atwood's surprising depiction of the ornithological origin of the written word, we hope our catalogue will merit more than a passing acquaintance.


Gardening & Horticulture Catalogue

To download our Gardening & Horticulture catalogue as a pdf, simply click on...

https://www.dropbox.com/s/w8cqlzlaks0yeet/Gardening%20Catalogue.pdf?dl=0



Our Gardening & Horticulture Catalogue
features fine gardening books from the nineteenth century, together with a small collection of hand-coloured botanical plates by Elizabeth Blackwell, an eighteenth century herbal full of recipes for curing one or another illness, advice on establishing an orchard, and descriptions of every manner of fruit, vegetable, and flower. Even though it
'
s too late to place an order for their seeds and started plants, we still offer vintage seed catalogues with their offers of heritage varieties, some of which remain with us to this day. (That's a David Austen rose from the front garden).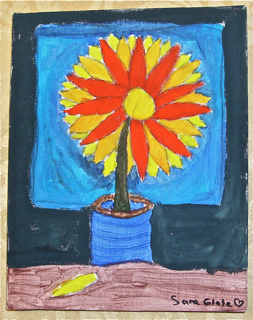 Remarks & Notices
Trillium Antiquarian Books

Newly Arrived

In original paper wraps, as issued ...

C. P. Traill. The Backwoods of Canada. London: Charles Knight, 1836. Second edition, in two volumes (pp. xiii, 351) in original paper wraps, as issued, with half title, title page, contents, and frontispiece bound in at the end of Part II. Duodecimo (17 cm), twenty engraved illustrations, frontis. Traill's first book, according to Needler in Otonabee Pioneers, was intended 'to enlighten the people of the Old Country on Canada, and to encourage immigration,- not to discourage it, as her sister Mrs. Moodie [who suffers at Needler's hands] did in Roughing It in the Bush' (95). Earlier, Needler writes, '...for seven years the Traills lived the stern life of pioneers making themselves a home in the unbroken forest land of the upper Otonabee. Here, in the midst of such hardships as she could never have dreamt of as she left her home in the Suffolk countryside, Catharine Parr Traill found time to write the long letters on the experiences of the first four years that make up her book...' (90). In History of the Book in Canada, George L. Parker in his article "Courting Local and International Markets" says, 'Almost as disheartening [as the fortunes of John Richardson, author of Wacousta] were the circumstances of the Strickland sisters, who arrived in 1832, both recently married to half-pay officers, and ready to carve out homes in the wilderness near Lakefield, Upper Canada. In England they and their sisters [who remained in England] had turned to writing as a source of financial support after their father's bankruptcy and death.... They were in desperate financial straits through the 1830s and quite unsuited to pioneer life, but they exploited their hard-ships in best-selling books about genteel upper-middle-class emigrants. Traill sent descriptive letters to her sister Agnes Strickland [author of the successful Lives of the Queens of England], who used her own reputation and influence to have Charles Knight issue these as The Backwoods of Canada...in his Library of Entertaining Knowledge' (349). According to Parker, Traill's first book, though it received good reviews, was reprinted several times (notably in an edition which included chapters on the Rebellion of 1837) and was translated into French and German, earned its author all of 125 Pounds-- hardly a ticket out of the wilderness (395). Traill's principal later works include The Female Emigrant's Guide (1854), Canadian Wildflowers (1868), and Studies of Plant Life in Canada (1885)-- the latter two owe much to the lithographs contributed by Traill's niece Agnes FitzGibbon (later, Chamberlin). Paper spines lightly worn, a spot or two on one cover; otherwise clean, bright, and sound. Near Fine. Still waiting for its first trip to the bookbinder, unusual (perhaps even rare) in this early state and condition. $900

A Peterborough imprint...

Alexander Graham, Otonabee. Leisure Hour Musings, Being a Collection of 235 Miscellaneous Pieces, Written from 1840 to 1873. Peterborough: James Stratton, [c. 1874]. Duodecimo (17 cm) in tan paper wraps. The 'pieces' referred to in the subtitle are in fact pieces of verse generally of a pious or sentimental sort-- poems about alcohol (Graham was a Scot), improvidence (Graham was a Scot), poems in dialect (Graham was a Scot), and death (poems in memorium for his fellow towns people, many of whom were Scots). A good sampling of the popular literature of the day but very poorly printed at the Examiner office-- several pages are unreadable, in places the text bleeds through, the registration is uneven throughout, and light and dark impressions alternate from one page to another. In contrasting style and sensibility, consider Isabella Valancy Crawford's "Vesper Star" (her first published work) published in 1873 while Crawford, too, resided in Peterborough. Front cover spotted, lower right corner damaged with loss. $40

---
Pictures of Friends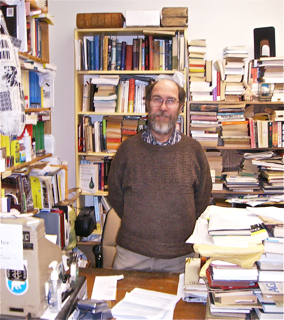 Mark Jokinen, Jokinen Books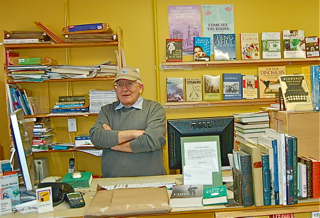 Paul Dyment, Scholars Books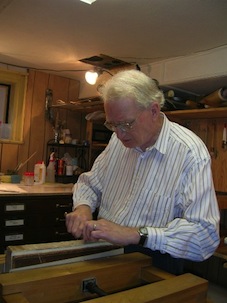 John Burbidge, Bookbinding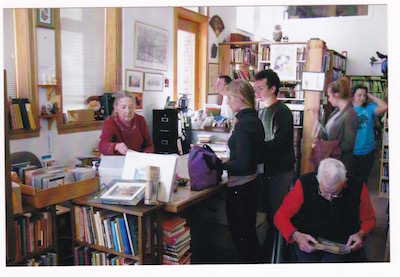 Nancy Grayson, Cunningham Books