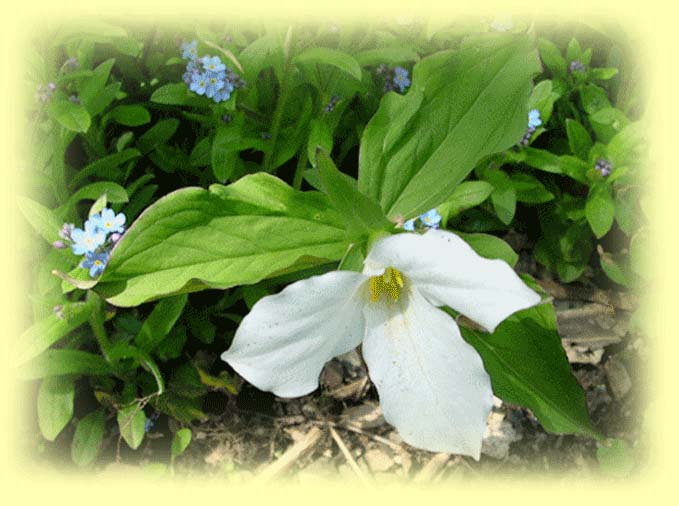 Trillium Antiquarian Books
Some common memento is better,
Something he prized and is known by;
His old clothes-- a few books perhaps.
William Carlos Williams, Tract

Welcome to the home of Trillium Antiquarian Books where you can search or browse our collection of antiquarian books on Country Life and Natural History -- scarce books, from A to Z, on angling, apiculture, bees, birds, botany, Darwin, farming, fish, flora, fruit growing, gardens, geography, grapes, herbals, horticulture, landscapes, mammals, orchards, ornithology, seeds, vegetables, wildflowers, zoology... and likely several other matters which do not come readily to mind. Search and browse, too, our antiquarian Canadiana and Literature collections. In our Canadiana collection you will find the early works of Moodie, Traill, Davies, Bouchette, and others from Upper and Lower Canada. Our antiquarian Literature collection makes room among its novels, sermons, and poetry for some rare works by Mark Twain and Stephen Crane.
We will never have thousands and thousands of books for sale, lining the front stairs, boxed and piled in the basement, but we do spend a great deal of time looking, live and on line; our collection of books on architecture and design, number-wise, is modest enough, but lined up together you will find classics on church architecture and designs for book covers-- perfect, if you are determined to build a replica of Ely's cathedral or are looking for a way to apply Tiffany style to mass marketed literary uplift. Sometimes all that's left of an old book is the pictures. You will find antiquarian prints and maps, together with entire illustrated books, in Trillium's collection of Images from antiquarian sources.
If you spend any time hunting up books, you are bound to come upon an occasional book so odd or idiosyncratic as to be irresistible. Proof of the proposition is to be found in the Trillium collection of intriguing Curiosities. Since their comings and goings are unpredictable, it's usually worth stopping in for a short browse.
Trillium Antiquarian Books has been selling scarce, out-of-print books on the Internet since 1998 and, earlier, by traditional mail order. Look for us at book fairs in Ontario and the American northeast, where we have exhibited during the past dozen years.
Trillium Antiquarian Books is owned by William Van Nest, Peterborough, Ontario, Canada. Trillium Grandiflorum, from which we take our name, is the provincial flower of Ontario and appears in snowy white drifts among the hardwoods each Spring. One of several trilliums resident in the back garden furnished the images on this page.

Featured Books
Francis Grose
A Classical Dictionary of the Vulgar Tongue
London: S. Hooper, 1785. First edition (unpaginated). Tall octavo (21 cm) in three-quarter leather over marbled paper, gilt title and decoration to spine, five raised bands. The scarce first edition preserves many colourful but virtually extinct expressions ('fart catcher, a valet or footman from his walking behind his master or mistress'), some still useful in modern circumstance ('fidgets' and bamboozle'), occasional expression perhaps worth reviving ('hobby horsical, a man who is a great keeper or rider of hobby horses'), and quite a few of the Falstaffian sort. A few spots; otherwise clean and sound. $950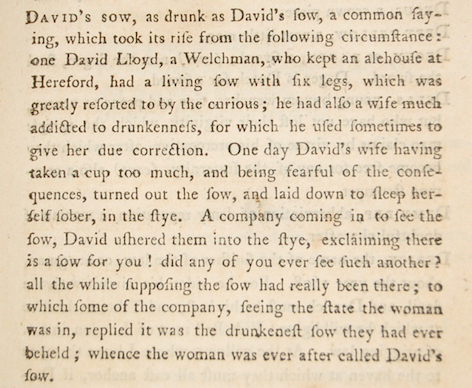 John Kennedy
A Treatise upon Planting, Gardening, and the Management of the Hot-House.
York: for the Author by A. Ward, 1776. First edition (pp. xvi, 420). Small folio (24 cm) in full contemporary leather, gilt titles and decoration to covers and spine, marbled endpapers and edges. Includes commentary on sowing tree seeds with corn, planting moorland and Commons, management of neglected woods, carrots, cabbages, and pineapples. Kennedy was Gardener to Sir Thomas Gascoigne, Bt., to whom his book is dedicated. This copy (with the bookplate of Syston Park) originally in the collection of Sir John Thorold, ninth baronet (1734- 1815), whose library at Syston Park near Grantham, Lincolnshire, reflected Thorold's passion for book collecting. Indeed, Thorold was "one of the leading figures of the bibliomania of the late eighteenth and early nineteenth centuries, when bibliophiles such as Richard Beckford, the third duke of Roxburghe and the second Earl Spencer vied to outbid one another in the salesrooms".... A fine copy. $750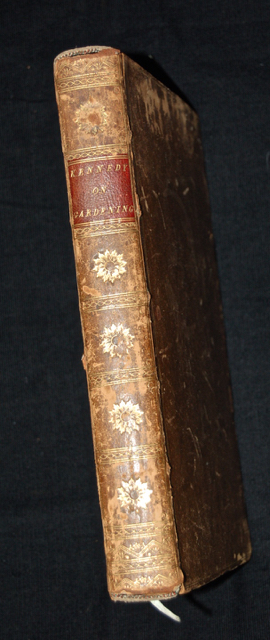 Frances Stewart
Our Forest Home, Being Extracts from the Correspondence of the Late Frances Stewart.
Compiled and edited by her daughter E. S. Dunlop. Montreal: Gazette, 1902. Second edition, expanded (pp. 300, appendices). Octavo (23cm), green publisher's cloth, gilt titles to cover and spine. The Stewarts were among the first European families to settle in the Peterborough- Lakefield region in the first half of the nineteenth century and to make a go of it; their neighbours included the Traills, Moodies, and Stricklands. Stewart's letters are a window into the everyday struggles and successes of these early times in what is now the Kawartha Lakes region of Ontario.... A scarce title. $500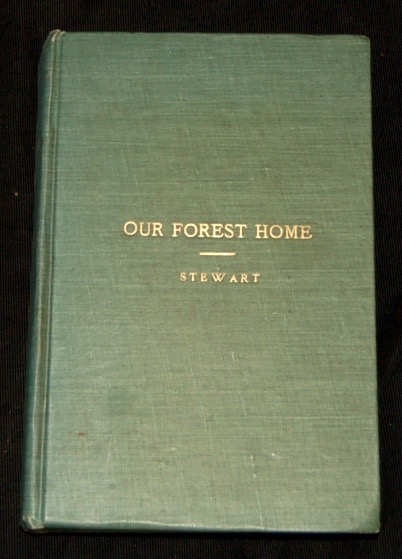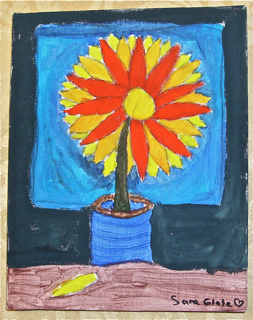 (Courtesy Sara Glatz)
Remarks & Notices
Trillium Antiquarian Books
Vigorish
As a general rule it isn't a good idea for a lawyer to represent both parties in a divorce action or any sort of contractual matter where the parties have distinct interests. Not only is it not a good idea, for all I know it may be unethical for a lawyer to serve two masters in this way.
The Two Masters Principle applies pretty much whenever you find yourself in the middle of things, whether you are trained in the law or not. If you are a volunteer umpire in a children's baseball game, you take special care to remain utterly impartial when it's your child's turn to bat. The town mayor who sells a parcel of land to a developer for four million dollars and then votes to approve an application to build a subdivision thereon is entangled in various conflicting interests and may become more entangled still if the law eventually takes its course. Preachers always need to remember who employs them, God or Mammon.
Because being in between is likely to be tricky and beset with conflict, it's difficult to understand why someone would go looking for a second master if they already had a perfectly good one to serve. But that is exactly what many auctioneers appear to have done. They have invented for themselves another master, other than the seller whose commission they hold, someone whose interests they purport to represent-- the buyer at auction of art, antiques, jewelery, books and the like. The cost to the buyer for this service is upwards of twenty-five percent of the selling price. The more the buyer buys, the more he or she pays.
From the standpoint of the seller, though, everything a competent auctioneer does seems intended to benefit the seller-- describing the sale items, advertising the event, coaxing one last bid from a reluctant crowd, offering phone and internet bidding, financing purchases, hosting previews, packing and shipping. Everything, that is, except charging the buyer a 'premium' of twenty or twenty-five per cent.
The buyer's premium has the general effect of depressing the selling price of an item by some factor which varies with the circumstances from zero (a houseful of eager, well-heeled but not especially well-informed bidders) to upwards of twenty-five percent. Fewer bids will be offered and those that are will be more carefully calculated when it is clear one is bidding not $1000 but $1250 for an antique vase. The effect is the same as if the auctioneer mumbled rather than cried out or wildly exaggerated the estimated value of a Vuitton handbag.
From the standpoint of buyers much of what the auctioneer does is not evidently to their benefit. The more people know about the sale, the greater the competition; the better the description of the book, the more likely the interest in examining it; the better the coffee, the longer some bidders will linger and the more alert they will be. A savvy buyer hopes for a snow storm and bad coffee.
So what does the buyer get for twenty-five percent? Not much it turns out, not even the comfortable chairs in the first three rows which encourage people to sit tight. Why does the auction house charge twenty-five percent for a dubious benefit arising out of a factitious relationship? Because it thinks it can. Why does the house keep the money rather than share it with the seller? Same reason.

(The title was suggested by Gene Alloway in a note on the subject to members of bibliophile.com.)

William Van Nest
July 2015
---
Pictures of Friends