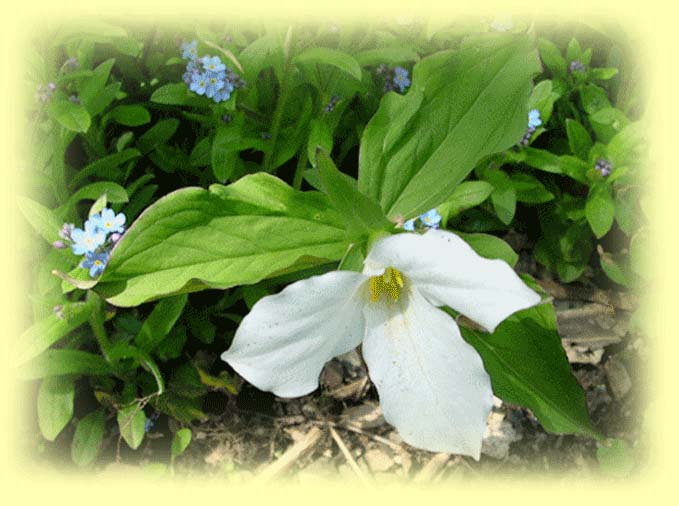 Trillium Antiquarian Books
Some common memento is better,
Something he prized and is known by;
His old clothes-- a few books perhaps.
William Carlos Williams, Tract

Welcome to the home of Trillium Antiquarian Books where you can search or browse our collection of antiquarian books on Country Life and Natural History -- scarce books, from A to Z, on angling, apiculture, bees, birds, botany, Darwin, farming, fish, flora, fruit growing, gardens, geography, grapes, herbals, horticulture, landscapes, mammals, orchards, ornithology, seeds, vegetables, wildflowers, zoology... and likely several other matters which do not come readily to mind. Search and browse, too, our antiquarian Canadiana and Literature collections. In our Canadiana collection you will find the early works of Moodie, Traill, Davies, Bouchette, and others from Upper and Lower Canada. Our antiquarian Literature collection makes room among its novels, sermons, and poetry for some rare works by Mark Twain and Stephen Crane.
We will never have thousands and thousands of books for sale, lining the front stairs, boxed and piled in the basement, but we do spend a great deal of time looking, live and on line; our collection of books on architecture and design, number-wise, is modest enough, but lined up together you will find classics on church architecture and designs for book covers-- perfect, if you are determined to build a replica of Ely's cathedral or are looking for a way to apply Tiffany style to mass marketed literary uplift. Sometimes all that's left of an old book is the pictures. You will find antiquarian prints and maps, together with entire illustrated books, in Trillium's collection of Images from antiquarian sources.
If you spend any time hunting up books, you are bound to come upon an occasional book so odd or idiosyncratic as to be irresistible. Proof of the proposition is to be found in the Trillium collection of intriguing Curiosities. Since their comings and goings are unpredictable, it's usually worth stopping in for a short browse.
Trillium Antiquarian Books has been selling scarce, out-of-print books on the Internet since 1998 and, earlier, by traditional mail order. Look for us at book fairs in Ontario and the American northeast, where we have exhibited during the past dozen years.
Trillium Antiquarian Books is owned by William Van Nest, Peterborough, Ontario, Canada. Trillium Grandiflorum, from which we take our name, is the provincial flower of Ontario and appears in snowy white drifts among the hardwoods each Spring. One of several trilliums resident in the back garden furnished the images on this page.


Featured Books

J. St. George Joyce. Manual of Sinn Fein in the Form of Question and Answer. Philadelphia: Banba, 1919. First edition (32 pp.). Duodecimo (15 cm) in original card, titles, etc., on front cover. Published at the end of WWI when negotiations for an international settlement had just begun, this small catechism links the fortunes of the United States with those of an Irish republic and is an appeal for the support of the many transplanted Irish resident in the States. A few spots to the covers, small tear rear top corner with no loss, staples a bit rusted but no staining. Joyce was a Philadelphian who wrote on the Irish in Philadelphia and not apparently a relation of the other one. Found in a box of summertime reading in a cottage on Stoney Lake, Ontario, where it had rested for nearly a hundred years. Four libraries worldwide hold a copy (NYPL, Villanova, Notre Dame, Stanford). Clean, sound, and bright. $400
Rex Stout. Where There's a Will. A Nero Wolfe Mystery. New York, Toronto: Farrar & Rinehart, 1940. First edition (pp. 272, avert.), eighth Nero Wolfe mystery. Octavo (19.5 cm) in publisher's red cloth, titles and decoration in black, dark blue top edge stain; plate with six b&w photos as called for. Absent any dust wrapper. Top and bottom of spine rubbed, epps. with light binder's glue stains, apparently usual. A near Fine copy. $475



Joan M. Vastokas, and Romas K. Vastokas. Sacred Art of the Algonkians: A Study of the Peterborough Petroglyphs. Peterborough: Mansard Press, 1973. First edition (pp. xiv, 164, Notes, Bibliography). Large fold-out map of the petroglyphs in map pocket at rear, thirty photo plates and 56 figures in b&w. Small folio (24 cm) in pictorial green dust wrapper, tan cloth with gilt titles to spine. An account by the principal anthropological investigators of the discovery, preservation, and interpretation of the large petroglyph site found north of Stoney Lake, just at the edge of the Shield in Peterborough County, Ontario, Canada. There are, of course, other sites around the country. One, on the north shore of Lake Superior, is approached by edging out over the water along a narrow stone ledge, but the Peterborough site is much more accessible (and endangered). Here is an account of the care taken to preserve the site and understand its message. A few minor creases to dust wrapper, previous owner's signature; otherwise a fine, clean copy of a scarce book. $150
Horace Waller [and David Livingstone]. The Last Journals of David Livingstone, in Central Africa from 1865 to His Death. Continued by a Narrative of His Last Moments and Sufferings, Obtained from His Faithful servants Chuma and Susi. London: John Murray, 1874. First edition, in two volumes (pp. xvi, 360, adverts; viii, 346, adverts). Octavo (23 cm) in original purple cloth (faded), gilt titles and pictorial decorations; complete with two frontispieces, 19 plates and twenty-four illustrations; two clean, bright maps-- large folding map in rear pocket Vol. 1 ('A Map of a Portion of Central Africa'), smaller folding map bound in at end Vol. 2 ('Forest Plateau of Africa'). Previous owner's signature ('Livingstone', but not apparently a direct descendant). Spines somewhat sun-faded but gilt titles and decorations still bright, one hinge starting, head and tail of spines abraded, two 3 cm splits. Large map with a short split at several folds, two age toned panels. Some light, infrequent foxing as shown. Binding is square and tight. About very good. $600



J. M. W. Turner. An Antiquarian and Picturesque Tour Round the Southern Coast of England. Illustrated with Eighty-Four Plates, from Drawings by J. M. W. Turner, R.A., W. Collins, R.A., William Westall, R.A., S. Prout, P. Dewint, and Others. Engraved by George Cooke, E. Goodall, R. Wallis, Edward Finden, W. Miller, J. C. Allen, and W. B. Cooke. London: M. A. Nattali, 1849. First edition (pp. viii, 202). Large quarto (29 cm) in full morocco, fine gilt decorations and titles to cover and spine, bevelled boards, all edges gilt; complete with 84 engravings of fraught and wind-blown seascapes and workaday seaside scenes-- forty-nine plates on stiff card (including frontispiece), each with a tissue guard, together with thirty-five engravings in text as head and tail pieces, etc. Based on Turner's two-volume work, published in 1826, with the addition of a number of engravings and a completely revised text (So, if not the first edition, then a thoroughly revised and expanded one). The high-style brown morocco has an inset title panel in maroon and is a showpiece of mid-century gilt decoration with dentil- work, garlands, and sunbursts; the rear cover, in maroon morocco, features a sunburst in a similarly framed panel, or lozenge, in blind. The real panel has a small damaged area about 2 cm square and two still smaller spots (See image); tips and spine ends are lightly abraded. The firm, square binding opens at p. 46 and p. 148; rear hinge starting but holding. Save only the rear of the frontispiece, which is blotched, the fine engraved plates and text are virtually free of foxing or other discolouration. A fine, bright copy of an uncommon, high-style, seaside travelogue. $800



Regimental Heritage. A Pictorial Record of the Paintings and Silver of the Royal Regiment of Artillery. London: Europa, for the Regiment, 1984. First edition, a presentation copy from General Sir Richard Vincent, KCB, DSO (pp. 286, index). Long folio (35 cm) in Oxford blue, gilt titles and regimental arms, matching slipcase. More than a hundred colour plates depicting events in the regiment's service history out of 417 total including many b&w photographic plates. A Fine copy in similar slipcase. $100


Celia Thaxter and Childe Hassam, Illus. An Island Garden. Boston: Houghton Mifflin, 1895. First edition, second printing (pp. 126) with pictures and decorations by Childe Hassam. Tall octavo (23 cm) in white publisher's cloth (scarce), gilt title and decoration by Thaxter's friend Sara Wyman Whitman (1842- 1904) whose cover designs, an elegant interpretation of the Art Nouveau, enhanced the work of, among others, Oliver Wendell Holmes and Sarah Orne Jewett. The tissue- guarded plates, illustrations and decorations are by the American impressionist Childe Hassam (1859- 1935) whose style seems perfectly suited to the flowered summer retreat on Appledore Island in the Gulf of Maine where Thaxter hosted a famous salon for writers and artists. Here, the frontispiece, title page, various headpieces, and eleven full-page garden portraits exhibit Hassam's skill depicting light and colour. Celia Thaxter (1835- 1894) was a popular poet of the time (They would have said 'poetess'). Her work, notable for its intimate familiarity with wild nature combined with conventional subjects and rhyming schemes, appeared frequently in The Atlantic. Her poem 'The Burgomaster Gull' is probably the best known. In Hassam's treatment it's as though Thaxter herself somehow has become an element in the landscape. This book, an account of her splendid flower garden on Appledore, is rightly regarded as "one of the most elaborate pieces of bookmaking of the period" (BAL). Spine and the cover's front edge sunned, front hinge re-enforced; the binding becoming a bit dry. A bright, attractive copy. $900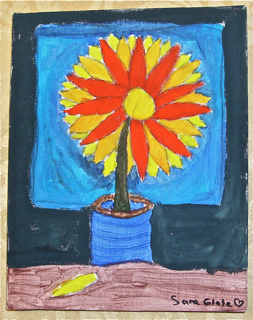 (Courtesy, Sara Glatz)
Remarks & Notices
Trillium Antiquarian Books

Canadiana Catalogue in Preparation




Having resided a long, lazy time in a lakeside cottage and now making ready their appearance in our forthcoming Fall Canadiana Catalogue are titles by the Strickland sisters (Agnes, Catharine Parr, and Susanna) and George Douglas, books signed and inscribed by Sir Sandford Fleming, a family copy of Canadian Wildflowers, and the contemporaneous letters of settler Frances Stewart. From a maple bush in Quebec's Cantons de l' Est, comes a cookbook by Martin Picard of Rabelasian-style recipes and good-natured ribaldry. Together with local histories, county atlases, and Margaret Atwood's surprising depiction of the ornithological origin of the written word, we hope our catalogue will merit more than a passing acquaintance. Here are some samples--

Susanna Moodie. Roughing It in the Bush; or, Forest Life in Canada (Toronto, 1871). Sir Sandford Fleming's copy, dated and with his signature.

C. P. Traill and Agnes Fitzgibbon [later, Chamberlin]. Canadian Wild Flowers (Montreal, 1869). A family copy, replaced plate by Traill's great, great grandniece.

George M. Douglas. Lands Forlorn (New York, 1914). Inscribed by Douglas.

George Grant. Ocean to Ocean (Toronto, 1873). Inscribed to his son and signed by Sandford Fleming.

William L. Grant and Frederick Hamilton. Principal Grant (Toronto, 1904). With a warm inscription and signed by Sandford Fleming.

C. P. Traill. The Backwoods of Canada... (London, 1836). T. C. Boyd's copy.

Martin Picard. Au Pied de Cochon Sugar Shack ([Montreal], 2012).

Not every title has been, as Inspector Morse would have said, well kept, and some have required repair of one sort or another, which is ongoing. The issuance of our catalogue will therefore await completion of that remedial work, but we thought you should have something to look forward to.

*****
---
Pictures of Friends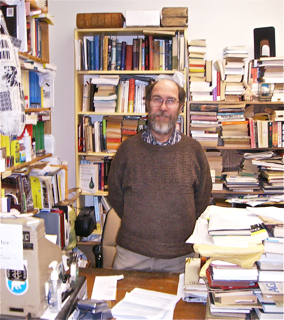 Mark Jokinen, Jokinen Books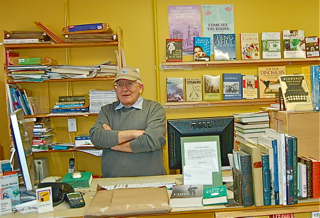 Paul Dyment, Scholars Books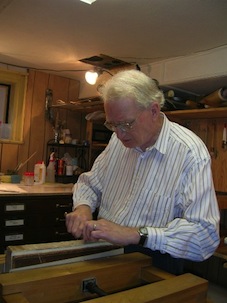 John Burbidge, Bookbinding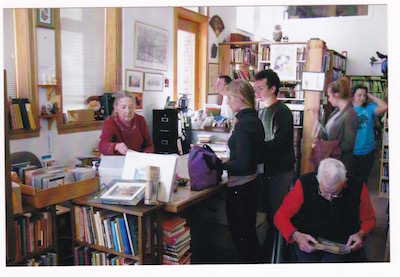 Nancy Grayson, Cunningham Books