Trillium Antiquarian Books
Some common memento is better,
Something he prized and is known by;
His old clothes-- a few books perhaps.

William Carlos Williams, Tract
Welcome to the home of Trillium Antiquarian Books where you can search or browse our collections of antiquarian books on Country Life and Natural History -- scarce books, from A to Z, on angling, animals, apiculture, bees, birds, botany, Darwin, farming, fish, flora, fruit growing, gardens, geography, grapes, herbals, horticulture, landscapes, mammals, orchards, ornithology, seeds, vegetables, wildflowers, zoology... and likely several other matters which do not come readily to mind.
Search and browse, too, our antiquarian Canadiana and Literature collections. In our Canadiana collection you will find the early works of Moodie, Traill, Davies, Bouchette, and others from Upper and Lower Canada. Our antiquarian Literature collection makes room among its novels, sermons, and poetry for some rare works by Mark Twain and Stephen Crane.
We will never have thousands and thousands of books for sale, lining the front stairs, boxed and piled in the basement, but we do spend a great deal of time looking, live and on line; our collection of books on architecture and design, number-wise, is modest enough, but lined up together you will find classics on church architecture and designs for book covers-- perfect, if you are determined to build a replica of Ely's cathedral or are looking for a way to apply Tiffany style to mass marketed literary uplift.
Sometimes all that's left of an old book is the pictures. You will find antiquarian prints and maps, together with entire illustrated books, in Trillium's collection of Images from antiquarian sources.
If you spend any time hunting up books, you are bound to come upon an occasional book so odd or idiosyncratic as to be irresistible. Proof of the proposition is to be found in the Trillium collection of intriguing Curiosities. Since their comings and goings are unpredictable, it's usually worth stopping in for a short browse.
Trillium Antiquarian Books has been selling scarce, out-of-print books on the Internet since 1998 and, earlier, by traditional mail order. Look for us at book fairs in Ontario and the American northeast, where we have exhibited during the past ten years or so. We are always buying selected antiquarian books in our areas of interest, whether single volumes or complete collections.
Trillium Antiquarian Books is owned by William Van Nest, Peterborough, Ontario, Canada. Trillium Grandiflorum, from which we take our name, is the provincial flower of Ontario and appears in snowy white drifts among the hardwoods each Spring. One of several trilliums resident in the back garden furnished the images on this page.
Historical note. In response to a number of friendly inquiries about Professor Van Nest's historical and cultural antecedents, he is related to the Van Nests of Kinderhoeck, Nieuw Amsterdam, Dutch settlers in the Hudson Valley beginning sometime in the first thirty years of the seventeenth century-- to this day a major parkway, a neighbourhood in the Bronx, New York, and he is delighted to say a branch of the New York Public Library bear the Van Nest name. An early reference attesting to his family's role in the affairs of colonial America appears in Dietrich Knickerbocker's [Washington Irving] A History of New York from the Beginning of the World to the End of the Dutch Dynasty (1809). The reference is quoted here at some length from Chapter V, Book VI, to furnish a suitable historical context:
But I refrain from pursuing this minute description, which goes on to describe the warriors of Bloemen-dael, and Weehawk, and Hoboken, and sundry other places, well known in history and song—for now do the notes of martial music alarm the people of New Amsterdam, sounding afar from beyond the walls of the city. But this alarm was in a little while relieved; for, lo! from the midst of a vast cloud of dust, they recognized the brimstone-colored breeches and splendid silver leg of Peter Stuyvesant, glaring in the sunbeams; and beheld him approaching at the head of a formidable army, which he had mustered along the banks of the Hudson. And here the excellent but anonymous writer of the Stuyvesant manuscript breaks out into a brave and glorious description of the forces, as they defiled through the principal gate of the city, that stood by the head of Wall Street. First of all came the Van Brummels, who inhabit the pleasant borders of the Bronx: these were short fat men, wearing exceeding large trunk-breeches, and were renowned for feats of the trencher; they were the first inventors of suppawn, or mush and milk. Close in their rear marched the Van Vlotens, or Kaats-kill, horrible quavers of new cider, and arrant braggarts in their liquor. After them came the Van Pelts of Groodt Esopus, dexterous horsemen, mounted upon goodly switch-tailed steeds of the Esopus breed; these were mighty hunters of minks and musk-rats, whence came the word Peltry. Then the Van Nests of Kinderhoeck, valiant robbers of birds' nests, as their name denotes; to these, if report may be believed, are we indebted for the invention of slap-jacks, or buckwheat cakes. Then the Van Higginbottoms, of Wapping's Creek; these came armed with ferrules and birchen rods, being a race of schoolmasters, who first discovered the marvelous sympathy between the seat of honor and the seat of intellect.
Professor Van Nest, in view of the reference to the invention of buckwheat cakes, has explored the origins of the popular poem "Hotcakes and Sausage" and has concluded that its modern English version is likely a straightforward translation of the original 17th century Dutch. For those unfamiliar with the lyric, here is the English version in the translation by E. Kovacs:
Hotcakes and Sausage
Give me some hotcakes and sausage
Make 'em nice and brown,
Hotcakes and sausage
Flip 'em upside down.
I'm so tired of roaming
Going from town to town,
Give me some hotcakes and sausage
Flip 'em upside down.
You Can't Tell a Cover by Its Book
At the turn of the century, in 1900, two principal designers of book covers and book decoration generally were Sarah Wyman Whitman (1842- 1904) and Margaret Armstrong (1867- 1944). In that year Whitman's career was coming to a close. Her cover designs and decorations had enhanced the work of Oliver Wendell Holmes, Celia Thaxter, and Sarah Orne Jewett-- friends and acquaintances of the busy Beacon Hill matron whose work in stained glass can be found in Harvard's Memorial Hall, keeping company with windows by Louis Comfort Tiffany, in Trinity Church, Boston, and in the Schlesinger Library at Radcliffe of which she was an early supporter. For the most part Whitman's design work was commissioned by the Boston firm Houghton Mifflin for whom she completed perhaps three hundred book covers, many for editions of classic American writers such as Henry Thoreau. Typically her designs exhibit a restrained, elegant interpretation of the Arts & Crafts style in which, as it were, she had been brought up.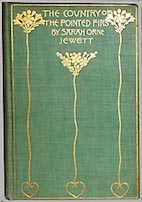 Margaret Armstrong's work as a designer, like Whitman's, was influenced by an association with Tiffany. While Whitman was commissioned to design stained glass windows for several important buildings and started the Lily Glassworks to produce decorative glass objects, Armstrong's father had at one time in his varied career worked for Tiffany as a stained glass designer. This influence finds expression in many of Whitman's and Armstrong's designs for book covers. As one commentator put it, "Like Whitman, Armstrong usually worked in a vocabulary of ornament, rarely producing a purely pictorial design." Armstrong's design for Van Dyke's Fisherman's Luck, for example, uses stylized images of fish decoratively, the elements comprising a sort of golden chain. Generally speaking, both Whitman and Armstrong decorated their covers rather than using illustration to advertise the book's contents. (This probably works better for some titles than for others-- it's hard to imagine, for example, a decorative Armstrong cover for Jack London's White Fang).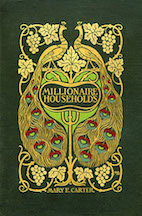 Armstrong designed book covers for several publishers but did most of her work for Scribner's, producing for them upwards of 150 cover designs, many in the Art Nouveau style of the day, featuring lush fruits, entwined vines, and glorious peacocks. Often these images of a burgeoning Nature were framed or boldly highlighted in gilt, producing an effect suggestive of a stained glass window. Armstrong's stained glass covers enhanced the entire Scribner's series of books by Henry Van Dyke for which Armstrong was the sole designer.
Van Dyke was an energetic churchman, professor, and occasional diplomat who also wrote popular books of enthusiastic piety even while serving as advisor to his friend and fellow Princetonian Woodrow Wilson. But in this case, at least, the cliche about telling a book by its cover has been turned on its head, for Armstrong's striking, glimmering cover designs remain as attractive and interesting as ever; whereas the books themselves, all the many volumes of industrious uplift produced by Van Dyke, have almost without exception, long ago vanished from popular literary and theological fashion.
References
Charles B. Gullans. "Margaret Armstrong and American Trade Bindings." Library, UCLA, Los Angles, CA (1991)
"Beauty for Commerce: Publishers' Bindings (1830- 1910)." Rare Books and Special Collections, Library, University of Rochester, Rochester, NY (n.d.)
We have just now listed Margaret Armstrong. "You Can't Tell a Cover by Its Book: Representative Book Covers by or Attributable to "MA". Two sets of four book covers designed by Margaret Armstrong in the art nouveau style for popular titles of the day; each set matted to gallery standard in antique gilt frame (54 cm x 44 cm). Each $300. See our Nos. 1741 and 1827.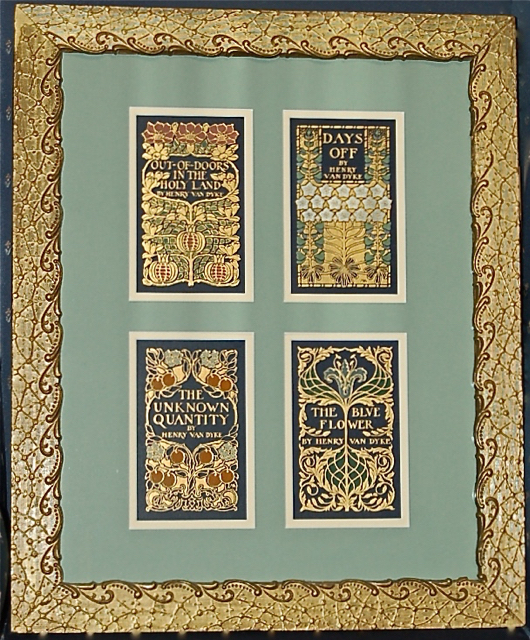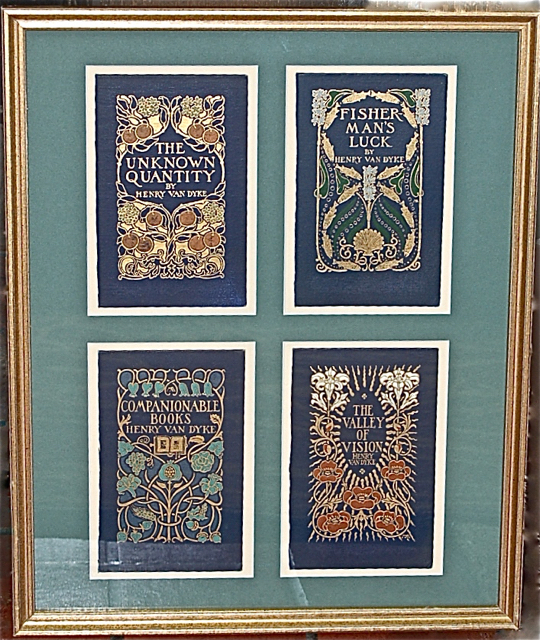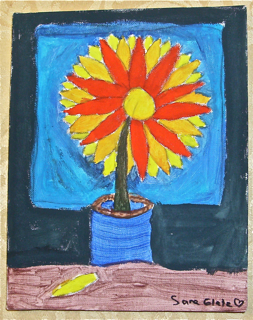 (Image courtesy Sara Glatz)