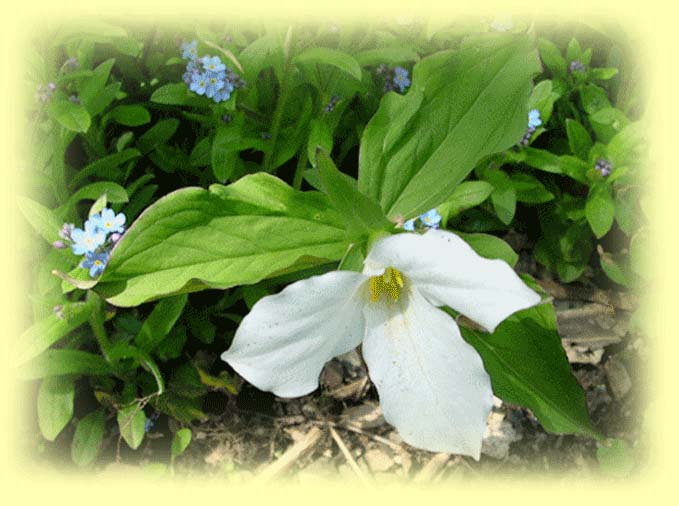 Trillium Antiquarian Books
Some common memento is better,
Something he prized and is known by;
His old clothes-- a few books perhaps.
William Carlos Williams, Tract

Welcome to the home of Trillium Antiquarian Books where you can search or browse our collection of antiquarian books on Country Life and Natural History -- scarce books, from A to Z, on angling, apiculture, bees, birds, botany, Darwin, farming, fish, flora, fruit growing, gardens, geography, grapes, herbals, horticulture, landscapes, mammals, orchards, ornithology, seeds, vegetables, wildflowers, zoology... and likely several other matters which do not come readily to mind. Search and browse, too, our antiquarian Canadiana and Literature collections. In our Canadiana collection you will find the early works of Moodie, Traill, Davies, Bouchette, and others from Upper and Lower Canada. Our antiquarian Literature collection makes room among its novels, sermons, and poetry for some rare works by Mark Twain and Stephen Crane.
We will never have thousands and thousands of books for sale, lining the front stairs, boxed and piled in the basement, but we do spend a great deal of time looking, live and on line; our collection of books on architecture and design, number-wise, is modest enough, but lined up together you will find classics on church architecture and designs for book covers-- perfect, if you are determined to build a replica of Ely's cathedral or are looking for a way to apply Tiffany style to mass marketed literary uplift. Sometimes all that's left of an old book is the pictures. You will find antiquarian prints and maps, together with entire illustrated books, in Trillium's collection of images from antiquarian sources.
If you spend any time hunting up books, you are bound to come upon an occasional book so odd or idiosyncratic as to be irresistible. Proof of the proposition is to be found in the Trillium collection of intriguing Curiosities. Since their comings and goings are unpredictable, it's usually worth stopping in for a short browse.
Trillium Antiquarian Books has been selling scarce, out-of-print books on the Internet since 1998 and, earlier, by traditional mail order.
Trillium Antiquarian Books is owned by William Van Nest, Peterborough, Ontario, Canada. Trillium Grandiflorum, from which we take our name, is the provincial flower of Ontario and appears in snowy white drifts among the hardwoods each Spring. One of several trilliums resident in the back garden furnished the images on this page.
Canadiana Catalogue

To download our Canadiana Catalogue as a pdf, just click on...


https://www.dropbox.com/s/hxkh8g49i3or4kk/Canadiana%20Catalogue%20PDF%20copy.pdf?dl=0




Now appearing in our Canadiana Catalogue are titles by the Strickland sisters (Catharine Parr, and Susanna) and George Douglas, books signed and inscribed by Sir Sandford Fleming, a family copy of Canadian Wild Flowers, and the letters of settler Frances Stewart. From a maple bush in Quebec's Cantons de l' Est, comes a cookbook by Martin Picard of Rabelasian recipes and good-natured ribaldry. Together with local histories and Margaret Atwood's surprising depiction of the ornithological origin of the written word, we hope our catalogue will merit more than a passing acquaintance.
Gardening & Horticulture Catalogue

To download our Gardening & Horticulture catalogue as a pdf, just click on...

https://www.dropbox.com/s/lpfdx7o54i6jocv/Gardening%20Catalogue%20PDF.pdf?dl=0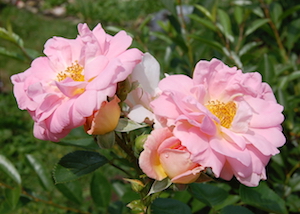 Our Gardening & Horticulture Catalogue features fine gardening books from the nineteenth century, together with a small collection of hand-coloured botanical plates by Elizabeth Blackwell, an eighteenth century herbal full of recipes for curing one or another illness, advice on establishing an orchard, and descriptions of every manner of fruit, vegetable, and flower. Even though it's too late to place an order for their seeds and started plants, we still offer vintage seed catalogues with their offers of heritage varieties, some of which remain with us to this day. (David Austin roses are from the front garden.)
The Automobile Quarterly
The Connoisseur's Magazine of Motoring, Today, Yesterday and Tomorrow

To view our sale for the Automobile Quarterly as a pdf just click on...

https://www.dropbox.com/s/vtb364hr161lw5h/Auto%20Quarterly%20Sale%201.pdf?dl=0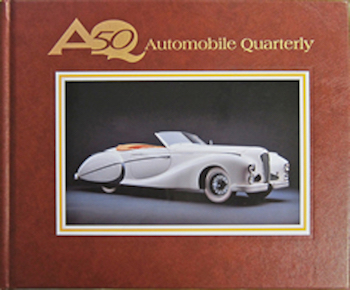 Beginning in 1962 and continuing for twenty-four years until his retirement in 1986, L. Scott Bailey edited and published this elegant and authoritative automotive periodical. Each issue was produced to a high standard, employing the skills of noted designers, photographers, and writers. In the New York Times Paul Vitello says, "...Mr. Bailey published an unbroken chain of gold-embossed [sometimes silver gilt] quarterly reports that constituted a virtual archive of the known universe of the car: long biographical essays about racecar drivers, designers and forgotten inventors of breakthrough automotive technologies; historical dissertations on classics like the Duesenberg; offbeat yarns like the definitive story of the gyroscopically balanced two-wheel motorcar designed in 1914 by Count Peter Schilovsky of Russia..." (15 July 2012). Each highly illustrated issue was produced in hardcover, as a long folio (28 cm), in a pictorial cloth binding, with gilt titles and decoration.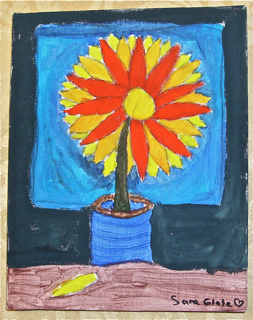 Remarks & Notices
Trillium Antiquarian Books

Newly Arrived
"Der Zeit Ihre Kunst, Der Kunst Ihre Freiheit"
Joseph M. Olbrich. Architektur. Berlin: Ernst Wasmuth, [1904]. First edition, one hundred and fifty plates in two portfolio volumes (Vol. 1: (1), 2 - 40, 42- 75; Vol. 2: 76- 122, 124- 150; two additional plates numbered '6' and '47'). Large folio (49 cm) in maroon publisher's cloth, gilt decoration, ties; architectural drawings, plans, designs, watercolour renditions, coloured photographic images on heavy paper. Featuring window and door treatments, lamps and lighting design, gates, door-knobs, stairways, unsw., of Olbrich Haus, Gluckert Haus, Ernst Ludwig Haus, Doppelwohnhaus, a small house for Princess Elizabeth of Hesse, a recital hall and a number of other projects in Darmstadt whence Olbrich moved from Vienna at the behest of Ernst Ludwig, Grand Duke of Hesse, who founded an artists' colony in that city in southwest Germany.
Just before the turn of the century, Joseph Maria Olbrich (1867- 1908), together with Gustav Klimt, Josef Hoffman, and Koloman Moser, founded the Vienna art nouveau Secessionist, or Jugenstil, movement whose statement of principle ("Der Zeit Ihre Kunst/ Der Kunst Ihre Fretheit") was expressed in Olbrich's Secession Hall, featuring Klimt's extraordinary, 700 square-foot Beethoven Frieze. Olbrich designed many private houses, right down to the smallest details, as illustrated in this collection of 150 plates. Wasmuth issued a number of collections illustrative of Olbrich's work, apparently as many as six, each comprising 75 plates, totalling 450 plates in all. We offer here the first two in the Wasmuth series of Olbrich's work. The portfolios are rubbed, worn, and somewhat loose; but they are fairly clean and intact. The plates' heavy paper is becoming a bit dry and brittle at the edges, and two or three plates show a mild tide line in a lower corner, but every image, set in wide margins, is clear and bright.
These volumes were originally the property of the St. Louis architectural firm of R[ockwell]. M. Milligan whose principal undoubtedly saw Olbrich's work (and perhaps met the man himself) at the St. Louis World's Fair of 1904. Indeed, Milligan's work for the St. Louis schools (e.g., the Dewey School) reflects an interest in the innovative style. Another American, Frank Lloyd Wright, Olbrich's exact but longer lived contemporary, reported on his encounter with Olbrich's work during a tour of European cultural sites. In 2010 Vienna's Leopold Museum exhibited works from the Art Nouveau Secessionist period; Total Design, published in German in 1988, surveys the work, with more than 600 illustrations of its more important artists and designers. In about thirty libraries worldwide and quite scarce. $2500

Great Lakes Maritime History
Patrick Folkes. Shipwrecks of the Saugeen (1828- 1938), a History of Maritime Disasters of Bruce County [Ontario]. Privately published, 1970. First edition (pp. 85). Large quarto (28 cm) in blue paper coversGreat Lakes maritime history; illustrated with maps and photographs. The Saugeen, as the subtitle suggests, refers to those shores of Lake Huron which extend from Clark Point, just south of Kincardine, all the way north along the western shores of the Bruce Peninsula to Tobermory, thence south along the eastern shores to Owen Sound and Meaford, but it also encompasses the southern tip of Manitoulin Island at South Baymouth and Fitzwilliam Island. Patrick Folkes, of Willowdale, Ontario, spent more than thirty years exploring the maritime history of the Great Lakes— shipwrecks, maritime disasters, lighthouse technology, techniques of wooden ship construction, the evolution of commercial fishing on the lakes (Brehm, A Fully Accredited Ocean). Spine edges lightly sunned, previous owner's note to cover; otherwise a Fine copy of a scarce history of southern Lake Huron (in fourteen libraries worldwide). $150

Goblins, chiefly Welsh...
Wirt Sikes and T. H. Thomas (Illus.). British Goblins: Welsh-Folklore, Fairy Mythology, Legends and Traditions. London: Sampson Low, et al., 1880. First edition (pp. 412, adverts), from 'Glantawe'- the seat of Sir John Jones Jenkins of Swansea. Octavo (23 cm) in brown pictorial cloth, gilt titles and decoration; illustrated with engravings. Near Fine. $400

Fine houses, also chiefly Welsh...
Sir Richard Colt Hoar. A Collection of Forty-Eight Views of Noblemen's and Gentlemen's Seats, Towns, Castles, Churches, Monasteries, and Romantic Places in North and South Wales… London: John and Josiah Boydell, [1806]. First edition. Long folio (cm) in full decorative leather, gilt titles, a.e.g.; forty-eight engraved plates (20.5 cm x 14 cm) with accompanying description. From the library of Sir John Jones Jenkins, Baron Glantawe, (1835- 1915) of the Grange, Swansea, Wales, and with his signature, etc., on title page. Jones was a successful tinware manufacturer, knighted, and later made Baron Glantawe of Swansea. This copy acquired with some others from the estate of his daughter, Olga. A few spots to some margins, epp. creased. A handsome book of views from a good home. $750

Moosehead Journey
Lucius L. Hubbard. The Woods and Lakes of Maine. A Trip from Moosehead Lake to New Brunswick in a Birch-Bark Canoe to which are added some Indian Place-Names and their Meanings. Boston: James R. Osgood, 1884. Second edition (pp. 223, appendix), association copy. Octavo (21 cm) in pale green publisher's cloth, decorative gilt and other titles; decorative endpapers; twenty full-page illustrations, plus frontispiece by Will Taylor; map of Farm Island Basin, Moosehead Lake. Binding tightened and with minor repairs, spine faded, minor soiling. Kirk A. W. Wipper's copy (a founder of the Canadian Canoe Museum whose personal collection of small watercraft formed the nucleus of the Museum's holdings), with his bookplate. A clean, tight copy. Scarce with map. $300
---
Pictures of Friends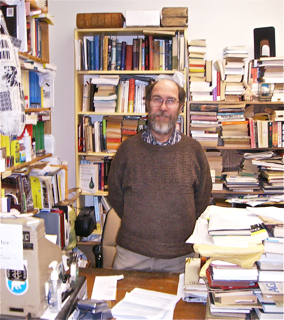 Mark Jokinen, Jokinen Books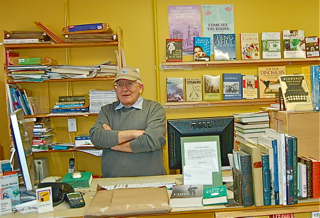 Paul Dyment, Scholars Books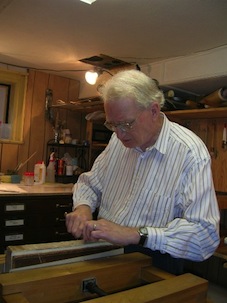 John Burbidge, Bookbinding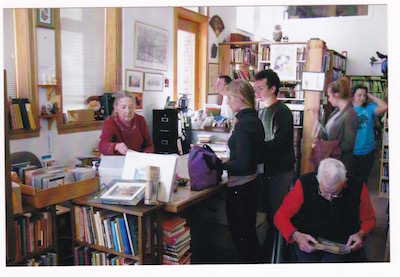 Nancy Grayson, Cunningham Books