Trillium Antiquarian Books
Some common memento is better,
Something he prized and is known by;
His old clothes-- a few books perhaps.

William Carlos Williams, Tract
Welcome to the home of Trillium Antiquarian Books where you can search or browse our collections of antiquarian books on Country Life and Natural History -- scarce books, from A to Z, on angling, animals, apiculture, bees, birds, botany, Darwin, farming, fish, flora, fruit growing, gardens, geography, grapes, herbals, horticulture, landscapes, mammals, orchards, ornithology, seeds, vegetables, wildflowers, zoology... and likely several other matters which do not come readily to mind.
Search and browse, too, our antiquarian Canadiana and Literature collections. In our Canadiana collection you will find the early works of Moodie, Traill, Davies, Bouchette, and others from Upper and Lower Canada. Our antiquarian Literature collection makes room among its novels, sermons, and poetry for some rare works by Mark Twain and Stephen Crane.
Sometimes all that's left of an old book is the pictures. You will find antiquarian prints and maps, together with entire illustrated books, in Trillium's collection of Images from antiquarian sources.
If you spend any time hunting up books, you are bound to come upon an occasional book so odd or idiosyncratic as to be irresistible. Proof of the proposition is to be found in the Trillium collection of intriguing Curiosities. Since their comings and goings are unpredictable, it's usually worth stopping in for a short browse.
Trillium Antiquarian Books has been selling scarce, out-of-print books on the Internet since 1998 and, earlier, by traditional mail order. Look for us at book fairs in Ontario and the American northeast, where we have exhibited during the past ten years or so. We are always buying selected antiquarian books in our areas of interest, whether single volumes or complete collections.
Trillium Antiquarian Books is owned by William Van Nest, Peterborough, Ontario, Canada. Trillium Grandiflorum, from which we take our name, is the provincial flower of Ontario and appears in snowy white drifts among the hardwoods each Spring. One of several trilliums resident in the back garden furnished the images on this page.
Mark Twain Collection
Bernard DeVoto, along with numerous other literary commentators, believed Mark Twain was the first quintessentially American writer. His western themes, his stories, and his language marked him as unbeholden to classical models unlike, say, Emerson and his New Englanders. Wherever Sam Clemens fits among some other American writers like Melville, Whitman, and James Whitcomb Riley, he is always an engaging original, one who seemingly worked without a net and whose lapses were all the more dramatic, as witness the lame conclusion to the masterpiece Huckleberry Finn. So we are always on the look out for a copy of an unusual edition from the Twain oeuvres (as they say). Here are several works which we have come across in the past little while and are pleased now to offer for sale.
We discovered a first edition (second state) of Twain's first published book The Celebrated Jumping Frog of Calaveras County in distressed condition, but now after some skilful book work, perfectly presentable. You will find as well a first edition Life on the Mississippi together with the Western Pilot, the steamboat pilot's guide to navigating the Ohio and Mississippi rivers of the sort Sam Clemens kept handy at the wheel (Our copy looks as if it was consulted from time to time). Then you'll find a nearly unique copy of the Autobiography, still waiting to be bound, and two of Twain's burlesques, Innocents Abroad and A Yankee in King Arthur's Court, neither of which is as innocent as it seems.
Mark Twain [Samuel L. Clemens]. The Celebrated Jumping Frog of Calaveras County and Other Sketches.
New-York: C.H. Webb, 1867. First edition, second state (absent adverts., broken type as called for, BAL 3310, pp. [1-6], 7- 198). Small octavo (16.5 cm), bound in full maroon morocco with jumping frog let in in tan leather, gold stamped fly on front cover; title blind-stamped into let in matching tan leather panel on spine and "Twain" in impressed gilt. In matching maroon cloth slipcase, preserving the maroon cloth front (faded gilt frog) and back cover (impressed frog) and spine (approximately 75% including worn, faded but still clear title and author in gilt) of the original. Text block, other than for some smudging as from a reader's soiled fingers and one worn spot to an early page, is tight and intact. The bookbinder's notes suggest the dilapidated, near perished state in which the book was discovered: "Since the text block had to be dismantled for sewing, all pages were washed to reduce acid levels. Sewing on linen threads. End bands primary sewing on linen thread, secondary sewing with silk. Starch paste was used on back of text with Japanese paper and linen backing. Linen backing and hemp sewing supports glued into split boards using Ph neutral pva" (John Burbidge). The once disbound book has been washed, resewn, bound in handsome decorative leather, and housed in a maroon cloth slipcase on which are mounted the original covers and spine. The original front endpapers (one bearing a previous owner's signature-- "L. Barrett") have been preserved separately, along with the original cloth and paper spine backing (on which a date, "April, 1867."). Included, as well, are two photographs showing the state in which the book was found and the bookbinder's notes. A handsomely bound and carefully preserved copy of a scarce American literary classic and Twain's first published book.
It's a yarn of the sort most often associated with Twain's fiction and most readily trivialized in the PBS re-enactment by Hal Holbrook, decked out in a white linen suit, chomping on a Marsh Wheeling cheroot, and sounding like nothing so much as the author of Pudd'nhead Wilson's New Calendar ('When in doubt, tell the truth'). 3000.00 USD
Mark Twain [Samuel L. Clemens]. Life on the Mississippi.
Boston: James R. Osgood, 1883. First edition, first state, with points at pp. 441 and 443. Page 444, lines 7 and 8, uncorrected, reads, ' 'It / it....' (pp. [1-8], 9- 624). Large octavo (21.5 cm) in full leather with marbled end papers, edges. Skilfully replaced leather spine, red morocco label and gilt lettering. Illustrated with more than 300 engravings by various artists, full-page and in-text. Covers worn, corners worn through, brittle end papers with some corners flaked off. Generally a nicely repaired, tight copy of this hard to find edition of the American classic. Sam Clemens wasn't a river pilot for long. The American Civil War saw to that as commercial traffic up and down the Mississippi quickly ended when Union naval forces sought to isolate and strangle the river cities of the South all the way to New
Orleans. 850.00 USD
Samuel Cumings. The Western Pilot; containing Charts of the Ohio River, and of the Mississippi, from the mouth of the Missouri to the Gulf of Mexico; accompanied with Directions for Navigating the same, and a Gazetteer, or Description of the Towns on their Banks, Tributary Streams, etc., also a variety of matter interesting to travelers, and all those concerned in the navigation of those rivers.
Cincinnati: Guilford, 1834. Revised edition (pp. 150). Small folio (22cm) in half leather over paper-covered boards, titles in black on front cover; illustrated with a series of strip maps or charts. Corners worn through with some loss, covers generally worn (titles still readable); endpapers stained with several worm holes; text stained and foxed in varying degrees throughout [pp. 7/8 fused]. A well-used copy of the standard guide for river pilots working the Ohio and Mississippi rivers, an adaptation or continuation of Zadok Cramer's book for pilots (last published 1822), beginning in 1824 and published with updates at least until the Civil War when commercial river traffic was shut down. Shows the various islands, shoals, and other assorted hazards giving directions for navigating a river steamboat among them. An earlier edition of the guide Samuel Clemens (later, Mark Twain) consulted during his time as a Mississippi river pilot (c. 1857-61). 400.00 USD
Mark Twain [Samuel L. Clemens]. Mark Twain's Autobiography.
New York and London: Harper & Brothers, 1924. First edition, in two volumes (pp. xvi, 368; viii, 365, adverts), with an Introduction by Albert Bigelow Paine. Large 8vo with Twain portraits as frontispieces with imprinted tissue guards. In BAL (3537) two states of the first edition are described without concluding which should be assigned precedence, saying, the 'tentative' sequence is 'not firmly established.' The differences between Variant A and Variant B reside in features of the second volumes, the first volumes being indistinguishable from each other. In particular, the frontispiece tissue guards in Variant A sometimes may be imprinted; whereas the frontispiece tissue guards in Variant B are always imprinted. According to BAL, however, the central distinguishing feature is that Variant A includes two pages of advertising bound in at the end of volume two, followed by a blank; Variant B is free of advertising, with two blank pages at the end of volume two. Our copy matches the description of Variant A in all particulars except one: it has yet to be bound. Since 1924, this copy has been clothed only in publisher's plain, brown paper wraps. Volume one is identified by a large '1' in red pencil on the wrapper; volume two is marked with a large '2' in ordinary pencil. BAL says, "In advance of publication the publisher sold an unknown number (It could not have been great) of copies in folded sheets to certain antiquarian booksellers and collectors." This copy of Variant A of the Autobiography would seem to be an example of one of those unbound advance copies, issued in the expectation buyers would have their copies specially bound for their collections. Indeed, the discovery of an advance copy in Variant A format (imprinted tissue guards and two pages of advertising) supports an argument which assigns precedence to Variant A ('an unknown number' of unbound copies in Variant A format being produced first, immediately followed by bound copies in the same format). Our copy is housed in a handsome, bespoke double solander case by John Burbidge in dark blue cloth, an echo of the trade binding, with decorative gilt lettering ('Samuel Clemens, Florida, MO, 1835' to the cover of volume one and 'Mark Twain, Stormfield, 1910' to the cover of volume two, 'Clemens' and 'Twain' on the case's spine) and bone fasteners; interior lined with fine marbled paper. Very nearly a unique copy. 3000.00 USD
Mark Twain [Samuel L. Clemens]. Innocents Abroad, or the New Pilgrim's Progress.
Hartford: American Publishing, 1869. First edition, third state (pp. xviii, 651, adverts). Large octavo (22.5 cm) in original publisher's sheepskin, gilt titles on black labels to spine; two hundred thirty-four illustrations, advertising. The third state of the first edition. BAL at 3316 identifies three states or issues of the first edition. The third state is chacterized by and distinguished from the second by having at (unpaginated) 654 an advertisement 'History of the Bible…Album Family Bible'. In 'Collecting Mark Twain' (Firsts, July/ August 1998), Kevin MacDonnell discusses bindings at some length. The publisher produced the first edition in a number of binding styles, from simple black cloth to fancy full morocco. This copy is bound in the publisher's 'library style' or 'turkey morocco', which is to say, full sheepskin-- a soft and quickly worn leather, as witness the copy at hand. Previous owner's bookplate; wear to top and bottom of spine with some loss, hinges starting, tips worn; first signature or two a bit loose but generally clean and tight. Less than Very Good. 175.00 USD
Mark Twain [Samuel L. Clemens]. A Yankee in King Arthur's Court in Century Magazine, November 1889- April 1890.
New York: Century, 1890 (pp. 74- 83). Quarto (23.5 cm) in three-quarter over marbled paper, professional repair to hinges. Included in these issues are the first appearance of Twain's A Yankee in King Arthur's Court, an essay on Daumier by Henry James, two short poems by Whitman, and excerpts from Nicolay and Hay's Lincoln biography. This single volume captures a moment in literary time-- Henry James engaging European culture, the first appearance of the official biography of Lincoln long ago memorialized by the now aging Whitman, and a rollicking burlesque by Mark Twain. A clean, bright, sound copy. 100.00 USD
*****
Jumping Frog (early state)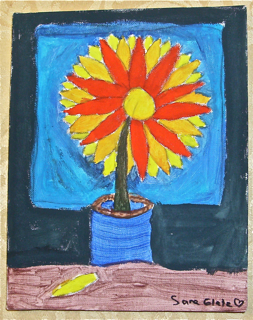 (Image courtesy of Sara Glatz)