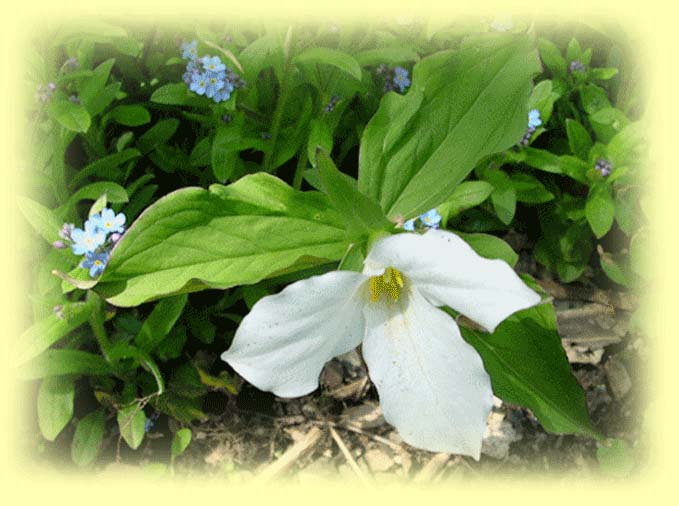 Trillium Antiquarian Books
Some common memento is better,
Something he prized and is known by;
His old clothes-- a few books perhaps.
William Carlos Williams, Tract

Welcome to the home of Trillium Antiquarian Books where you can search or browse our collection of antiquarian books on Country Life and Natural History -- scarce books, from A to Z, on angling, apiculture, bees, birds, botany, Darwin, farming, fish, flora, fruit growing, gardens, geography, grapes, herbals, horticulture, landscapes, mammals, orchards, ornithology, seeds, vegetables, wildflowers, zoology... and likely several other matters which do not come readily to mind. Search and browse, too, our antiquarian Canadiana and Literature collections. In our Canadiana collection you will find the early works of Moodie, Traill, Davies, Bouchette, and others from Upper and Lower Canada. Our antiquarian Literature collection makes room among its novels, sermons, and poetry for some rare works by Mark Twain and Stephen Crane.
We will never have thousands and thousands of books for sale, lining the front stairs, boxed and piled in the basement, but we do spend a great deal of time looking, live and on line; our collection of books on architecture and design, number-wise, is modest enough, but lined up together you will find classics on church architecture and designs for book covers-- perfect, if you are determined to build a replica of Ely's cathedral or are looking for a way to apply Tiffany style to mass marketed literary uplift. Sometimes all that's left of an old book is the pictures. You will find antiquarian prints and maps, together with entire illustrated books, in Trillium's collection of Images from antiquarian sources.
If you spend any time hunting up books, you are bound to come upon an occasional book so odd or idiosyncratic as to be irresistible. Proof of the proposition is to be found in the Trillium collection of intriguing Curiosities. Since their comings and goings are unpredictable, it's usually worth stopping in for a short browse.
Trillium Antiquarian Books has been selling scarce, out-of-print books on the Internet since 1998 and, earlier, by traditional mail order. Look for us at book fairs in Ontario and the American northeast, where we have exhibited during the past dozen years.
Trillium Antiquarian Books is owned by William Van Nest, Peterborough, Ontario, Canada. Trillium Grandiflorum, from which we take our name, is the provincial flower of Ontario and appears in snowy white drifts among the hardwoods each Spring. One of several trilliums resident in the back garden furnished the images on this page.


Featured Books
Burckhardt, John Lewis. Travels in Nubia. London: John Murray, 1819. First edition (xcii, 543 pp., adverts). Published by the Association for Promoting the Discovery of the Interior Parts of Africa with list of committee and association members. Large quarto ( 27 cm), frontis, with two maps, one folding; in half Morocco over marbled paper, five raised bands, gilt title and decoration to spine (specially bound by David Comstock, Hand Bookbinding).
Baines, Edward (Ed.) and S. Austin, S. Harwood, and G & C Pyne (Illus.). Lancashire Illustrated in a Series of Views. Views of Lancashire. Towns, Public Buildings, Streets, Docks, Churches, Antiquities, Abbeys, Castles, Seats of the Nobility. London: Fisher, 1831 (pp. 102). Quarto (28 cm) in half morocco over marbled paper, four raised bands, gilt titles and decorations; 102 fine engraved views (12 cm x 16 cm) by Robert Tallis (?) with tissue guards, two per plate, accompanied by historical commentary on the chapel, waterfront, tower, or country house.
Whittaker, Frederick. A Complete Life of General George A. Custer, Major General of Volunteers, Brevet Major General U.S. Army, and Lieutenant-Colonel Seventh U.S. Cavalry. New York: Sheldon, 1876. First edition (pp. x, 648, index). Quarto (24 cm) in original publisher's decorative brown cloth binding, gilt titles and decorations to front and rear covers. Tal Hunter's bibliography High Spot #1 of the Custer commentaries. The first and for 25 years the most influential biography of GAC which, together with his wife's publicity campaigns, was the source of the myth of GAC, the gallant warrior, with which countless school children and movie goers were innoculated.
Reed, John. A Day in Bohemia or Life Among the Artists. Being a Jeu D'Esprit Containing Much That is Original and Diverting, in Which the Reader Will Find the Cognomens and Qualities of Many Persons Destined One Day to Adorn the Annals of Nations, in Letters, Music, Painting, the Plastic Arts, and even Business; together with their Foibles, Weaknesses, and Shortcomings and some Account of the Life Led by Geniuses in Manhattan's Quartier Latin. Privately published by the author in an edition of 500 copies, 1913 (48 pp.). Folio (24 cm) in paper-covered slipcase with title on label, publisher's brown cloth . Elizabeth Gurley Flynn's copy, signed by her in full on the ffep. Flynn (1890- 1964) was a founder of the American Civil Liberties Union and a campaigner for women's rights. Later in life, just before the outbreak of WWII, she joined the Communist party and served briefly as chairwoman of the National Committee.
Andrews, H. C. The Heathery; or a Monograph of the Genus Erica, containing Coloured Engravings, with Latin and English Descriptions and Dissections, etc., of all the Known Species of that Extensive and Distinguished Tribe of Plants. Volume III. London: for the Author by Richard Taylor and Co., 1806. First edition (unpaginated). Small folio (24 cm) in modern three-quarter leather over fine cloth, gilt titles and decorations, marbled edges; fifty fine full-page hand-coloured engravings on rag paper of varieties of heather (Nos. 101- 150 from the six-volume work), in this instance those native to the Cape of Good Hope (and likely elsewhere in South Africa), each plate with Latin and English descriptions en face. An exceptionally fine, bright copy.
Stewart, Frances. Our Forest Home, Being Extracts from the Correspondence of the Late Frances Stewart. Compiled and edited by her daughter E. S. Dunlop. Montreal: Gazette, 1902. Second edition, expanded (pp. 300, appendices). Octavo (23cm), green publisher's cloth, gilt titles to cover and spine. The Stewarts were among the first European families to settle in the Peterborough- Lakefield region in the first half of the nineteenth century and to make a go of it; their neighbours included the Traills, Moodies, and Stricklands. Stewart's letters are a window into the everyday struggles and successes of these early times in what is now the Kawartha Lakes region of Ontario.
McFee, John. The Pine Barrens. New York: Farrar, Straus & Giroux, 1968. Second edition (pp. 155), signed and inscribed by McPhee. Octavo (21 cm) in pictorial dust wrapper (a small closed tear and chip) over blue cloth. VG/ F.
Synge, J. M. and Jack B. Yeats, Illus. The Aran Islands. Dublin: Maunsel, 1907. First edition, with twelve b&w illustrations by Jack B [utler]. Yeats (pp. 189 [(1), adverts.]). Large octavo (23 cm) in publisher's blue cloth. A Fine copy.

Pushkin, Alexander. Ruslan and Ludmila. Moscow: GIHL, 1960. Illustrated by Tatjana Mawrina. First edition thus, in Russian (pp. 150). A presentation copy for Rockwell and Sally Kent, signed and with a complimentary note from actor [and] soloist for the Kirov Opera, 'Lavrenty Yaroshenko (Farlaf and Ruslan). Leningrad, Yuny 13, 1962.' From the library and with the bookplate of American artist Rockwell Kent, a theatre ticket to the performance enclosed.


Appearing Soon

Lucius Apuleius. The Story of the Marriage of Cupid and Psyche from the Golden Ass of Apuleius. Suite of 27 engravings by the Master of Die and Augustino Veneziano. Rome: Salamanca, c.1560.

William Hogarth.The Works of William Hogarth. The original plates restored by James Heath Esq., R.A. London: Baldwin & Craddock, 1837.

J. G. Stedman. A Narrative of a Five Years' Expedition against the Revolted Negroes of Surinam, in Guiana, on the Wild Coast of South America.... London: J. Johnson and J. Edwards, 1796.

John Milton [and John Martin, Illus.]. Paradise Lost. London: Washburne, 1853.

Walter Pater. Marius the Epicurean. His Sensations and Ideas. Portland, Maine: Thomas Mosher, 1890.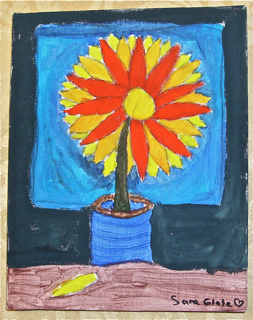 (Courtesy, Sara Glatz)
Remarks & Notices
Trillium Antiquarian Books

We remember fondly John Lord (1939- 2016) of John Lord's Books, Stouffville, Ontario.

Arrivals
Lately arrived and apt to appear soon in more detail are, among others, a signed four-volume copy of Seton's Lives of Game Animals, a scientific work on Brazil's orchids with hundreds of plates, an unusual but characteristically clever work by Margaret Atwood, Charles' grandfather's account of animate life, and books on landscape gardening and flowers.
Also appearing soon is a little cluster of baseball books, books on fish and fishing, and a collection of titles from the series Enciclopedia Mexicana de Arte.
All of these, and some others yet, have parked themselves on the desk where they sit drumming their fingers, 'Well…?' To them, as to you, I can only sigh and say, 'I'm working as fast as I can.' Besides, today I have to go into the country and pick up a load of rough-cut pine lumber.
Ernest Thompson Seton. Lives of Game Animals.
Frederico Carlos Hoehne. Iconographia De Orchidaceas Do Brazil.
C[harles] J[ay] Taylor. England. Pen and Ink Sketches.
Jean Jacques Audubon. 'Red Phalarope' from Birds of America.
Margaret Atwood. ['Mother Bid Hatches the Alphabet'].
Illustrated Historical Atlas of the County of Hastings and Prince Edward, Ont.
Robert Frost. A Further Range.
John Steinbeck. The Red Pony.
[Powell]. Exploration of the Colorado River of the West and Its Tributaries.
Erasmus Darwin. Zoonomia; or, the Laws of Organic Life.
Charles S. Sargent. Atlas to Accompany the Report on the Forest of North America.
J. M. W. Turner. An Antiquarian and Picturesque Tour round the Southern Coast…
Eric Partridge. A Dictionary of the Underworld, British and American...
D. Buenaventura de Castellet. Vinticultura y enologia espanolas…
Thomas H. Mawson. The Art & Craft of Garden Making.
Charles A. Platt and Royal Cortissoz. Monograph of the Work of Charles A. Platt.
Robert T. Watson. The Broken Twig, an Illustration of Belmont Township.
Egerton Ryerson,. The Loyalists of America and Their Times.
[Montreal Star]. Wild Flowers of Canada.
---
Pictures of Friends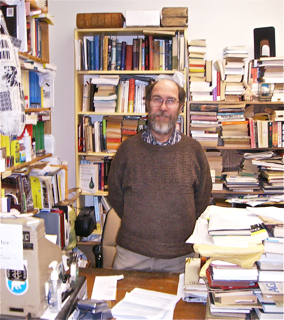 Mark Jokinen, Jokinen Books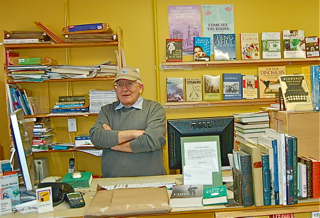 Paul Dyment, Scholars Books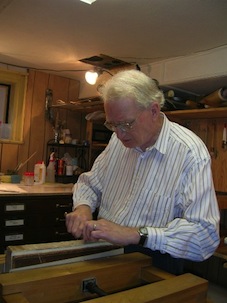 John Burbidge, Bookbinding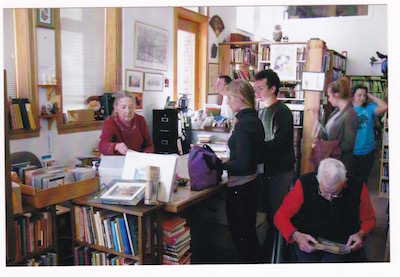 Nancy Grayson, Cunningham Books